Typing, Transcription and Secretarial Services
Type it Tiger is a market leader in the UK for typing and transcription services. [What is transcription? Transcription is the act of documenting something in hard copy – in the context of the service that Type It Tiger provides it refers to the typing of recorded speech or handwritten notes by a qualified typist.]
Situated on the London / Buckinghamshire border, we are a quintessential English company providing outsourced transcription and secretarial services (including audio and copy transcription) for a wide range of people.
We work to your deadlines and offer fast, efficient and secure typing services at competitive prices.
We are your perfect secretarial services outsourcing partner – We transcribe while freeing up your time to do what you do best (which is unlikely to be typing.)
Outsourced typing, transcription and secretarial services make perfect sense for a variety of reasons:
You do your own typing?
At only £15 per hour for transcription work with secretaries achieving a typing speed of 90+ words per minute, if you are able to type at 30wpm then it would take you three hours to save £15….are you suggesting that your time is only worth £5 per hour?!
In-house secretaries are expensive:
1. Due to variable work flows the average secretary only types for 60% of her time in the office… you still pay for 100% of her time! Ouch!
2. As an employer you have additional cost burdens: National Insurance, more office overheads, redundancy, maternity, annual leave, etc. Ouch!
3. Employees represent a great deal of wasted capacity. Each year the average employee has 25 days annual leave, 7 days sick leave and 12 public holidays. The net result is that despite paying someone for 12 months work, you receive little over 10 months labour! Ouch!
"Is there a better way?" I hear you ask
A. Pay for the secretarial services that you need when you need them, no wasted capacity, we will halve your secretarial costs.
B. Typing services on demand 365 days a year, 7 days a week, even when your office is closed.
C. We type, you focus on your business.
D. Consider Type It Tiger to be your virtual secretary, on call whenever you need her, yet without the burden of being her employer!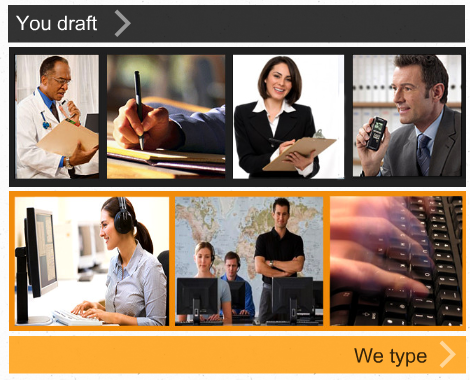 Accuracy
Process
In order to take advantage of our market leading transcription services simply click the "UPLOAD" tab in the menu bar at the top of this website, select the file(s) that you wish to send and with one click you will send them directly and securely to Type it Tiger.

We would suggest that large file formats such as WAV are converted to (or "saved as") MP3 or equivalent compressed files before sending them to us. The reason is that an hour of dictation as WAV may be 500MB in size while the same audio file as an MP3 would typically only be 45MB. Smaller files are both easier to send and easier to work with.
Once received your work will be immediately assigned for transcription. A member of our specialist secretarial team will then transcribe the work. The finished typed document will be returned to you in the shortest possible time, quality assured.
Pricing and payment terms for our transcription services vary according to the type of work, the turn around time required and the payment terms. Discounts are available for pay-as-you-go terms.
While we cannot offer free transcription services our typing is very competitively priced and, as explained above, at the equivalent of £5 per hour for your time, outsourced secretarial services are certainly cheap and cost effective.
Who Outsources Transcription and Typing?
Many industries benefit from outsourcing their typing transcription work to Type It Tiger, a specialist in the provision of secretarial services. You may be a RICS surveyor, or you may require legal or medical transcription, or perhaps you need an audio recorded interview, meeting or dictation typed up – Type It Tiger is just one click of a mouse away and always happy to help.
Voice recording equipment
Type It Tiger is now able to source specialist voice recording equipment for its customers at great prices.
Typing and Transcription Services
5
out of
5
based on
587
user ratings.