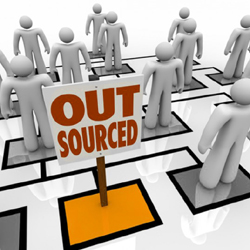 Entrepreneurs Harness the Power of Outsourcing
outsourcing can reduce associated operating costs by as much as 50%
Over the past 20 years we have witnessed an Internet based revolution.
High street retailers have seen their businesses crumble as consumers seek better value on-line from more efficient companies operating with lower overheads in cyber space.
This trend is now continuing into the service sector. Those that embrace new on-line working practices will flourish, principally because of greater operational efficiency and lower operating costs, while those that ignore progress do so at their peril.
Outsourcing now means that many jobs that were previously performed in-house by employees are now being farmed out to external specialists. The Internet and electronic file transfer protocol (FTP) make this process very easy to achieve.
Send a file with instructions in an instant and receive the finished work back as quickly as if the work had been done internally, yet at a fraction of the cost of having full time employees.
Empirical evidence suggests that outsourcing can reduce associated operating costs by as much as 50%. This in turn provides you with a huge competitive advantage and a much more healthy business. Reducing operating costs mean bigger profits!
In-house secretaries are expensive:
1. Due to variable work flows the average secretary only types for 60% of her time in the office… you still pay for 100% of her time! Ouch!
2. As an employer you have additional cost burdens: National Insurance, more office overheads, redundancy, maternity, annual leave, etc. Ouch!
3. Employees represent a great deal of wasted capacity. Each year the average employee has 25 days annual leave, 7 days sick leave and 12 public holidays. The net result is that despite paying someone for 12 months work, you receive little over 10 months labour! Ouch!
Now consider some of the benefits of outsourced secretarial, typing and transcription services:

FLEXIBILITY: you only pay for the typing that you need, when you need it, no wasted capacity. No job is too small
SPEED: fast turn around times with transcription services available 365 days a year, 24 hours a day (even when your office is closed)
EFFICIENCY: save time and money with an online workforce, on-demand and on your own terms
STRESS-FREE: remove employment issues (no NI costs; no contracts; no need to pay during sick leave, maternity leave and annual leave, no redundancy, no school holiday issues, no fixed overheads …)
QUALITY:we provide typists with skill and expertise appropriate for the job
CSR: corporate social responsibility needs are met as both scope 1 and scope 3 carbon emissions are reduced as a direct result of outsourcing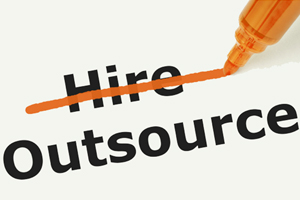 Type It Tiger is your perfect outsourcing partner for secretarial typing and transcription services; photoshop and photographic image work; translation work; designing and building websites; market research; spreadsheet work; mailing services and electronic mailmerge.
Lawyers; doctors; surveyors; inventory agents; real estate agents; students; academic researchers; authors; police; small businesses; conference organisers; market research companies and large corporate executives are all moving towards outsourcing of typing and transcription services.
Full time or Ad-hoc Outsourcing
While some companies have opted to outsource all of their office administration, others use outsourcing as a source of cover for full time staff when needs require it. Either way, Type It Tiger is happy to be of assistance.